for better expeRIence please access members hub on a tablet or computer! CERTAIN FEATURES MAY BE UNAVAILABLE VIA MOBILE DEVICES.
starting or Owning a business can feel like a lonely island, where you face new challenges daily, 
that only a few people know how to handle.  No matter the size of your boutique or e-commerce store; the discounts, education and strategies shared in your Membership Hub will grow your brand or business today.
JOIN OUR FACEBOOK GROUP
A COMMUNITY to Network with OVER 1K+ 
Entrepreneurs and direct access to exclusive
 wholesale vendors who are apart of our group. 
ENJOY 50% OFF THE BOUTIQUE PLANNER AND
ALL OTHER ITEMS ON OUR WEBSITE!
USE CODE "VIPMEMBERSONLY"
Get instant access some of our top recommended packaging vendors. 
BOUTIQUE BOSS
DO'S & DON'TS
FREE VENDORS!!!
YES! ONE OF THE PERKS OF OUR COMMUNITY IS
GETTING UNLIMITED ACCESS AND UPDATES ON WHOLESALE VENDORS FOR YOUR BOUTIQUE OR E-COMMERCE STORE.
GET FUNDING FOR YOUR BUSINESS!
Download the free 2022 Grant List for Small Businesses.
Having a Vendor List is not enough!
Without a PLAN, you'll do what other struggling boutique owners do:
Overspend on things people don't even want and get stuck with boxes of products that won't move, even at a discount.
That's called dead inventory! And it kills businesses before they get a chance to grow. Check out these amazing resources below to help you create a strong OBP (Open to Buy Plan).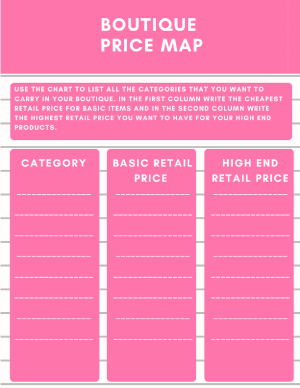 LIVE-STREAMS + TRAININGS HUB
New Videos Coming Soon.....Stay Tune!
Should You Be Collecting Taxes for your Online Boutique?
SALES TAXES ARE PAID TO STATE GOVERNMENTS AND IS BASED ON YOUR STATE TAX NEXUS AKA YOUR CONNECTION TO A STATE.
Your Nexus can be:
Physical - The State You Ship From
Financial-  You reached a certain sales Revenue from Residents within the State
As a new Online Business, you only have 1 Nexus- Your Physical Nexus because you are shipping from your HOME...
If you live in a state that collects state tax then you are required to get a state tax license from the state.
If you live in a state that collects state tax then your business will ONLY charge sales tax to customers in that state.
Business information is public information!
 Getting a virtual business mailbox instead of using your personal address. Once the basic legal aspects of your company are created, begin opening accounts with vendors that report to the credit bureaus to establish your business credit file and start building credit. As with legally creating your business, this makes your company known to business credit reporting agencies.
Sign Up for your Virtual Mailbox today. 
THE QUICK GUIDE TO
STARTING AN ONLINE BOUTIQUE
This Booklet includes 10 Simple Steps to Guide you in starting your Online Boutique.
Learn How to:
Setting up your Business legalities
Developing a Business Plan
Building Business Credit
Sourcing Vendors
Branding your Business and Marketing
And So Much More!

Bonus** Includes Free Boutique Business Plan and Mini Vendors List
Please Note that this version is a Quick Guide on How to start your boutique.
If you need a guide that is more detailed and will require more guidance then you should Purchase "The Boss Babe Boutique Planner" or Book a Coaching Session. 
Get exclusive retail buyer access for the biggest consumer merchandise show in America. Find wholesale products no other market has. Network with professionals and Meet new vendors with the hottest, trend-setting items to keep your store fresh.
For more details visit our social channels
Need Member Support:
Email contact@bossbabemove.com